Sadar Psychological and Sports Center is a family owned and operated psychology practice specializing in the use of EEG Biofeedback/Neurofeedback  and psychotherapy to treat a wide range of clinical conditions and to develop peak performance in a variety of life areas.
Our small and dedicated staff prides itself on its research-based approach to brain training and the personalized care it offers each of our clients.
We also believe in the ability of every human being to work towards their best potential and achieve in sports, career, school and at home.  That is why we combine our years of experience doing psychotherapy with the advances that new technologies have brought to the field of psychology as a powerful way to bring positive results to children, adolescents and adults.  We offer individualized treatment based on a thorough assessment process.
Located in Phoenixville, Pennsylvania, we have been proud to service the greater Philadelphia area since 1985.  Since establishment, Sadar Psychological has been selected by the Human Brain Institute of Switzerland as the US partner clinic to help introduce the HBI method to the US.
Mitchell Sadar, Ph.D.
Dr. Mitchell Sadar is a licensed psychologist who has been practicing clinical psychology for over 25 years.  He has worked in a wide array of settings including adult and adolescent inpatient units, substance abuse rehabilitation programs, prisons, and private practice.  In 1999, Dr. Sadar became the first clinician in the greater Philadelphia area to be trained in EEG biofeedback/neurofeeback and one of the first 500 neurofeedback practitioners in the world.
Education:
B.A. with Honors in Psychology – Dartmouth College
M.A. in Clinical Psychology – University of Dayton
Ph.D. in Clinical Psychology – University of Nebraska, Lincoln
APA Specialization in Addictions
BCIA Board Certified in Neurofeedback
President of Northeast Regional Biofeedback Society
Member: American Psychological Association, Pennsylvania Psychological Association, International Society for Neurofeedback and Research, Association for Applied Psychophysiology and Biofeedback, Greater Philadelphia Pain Society, Affiliate Member of EEG Info, Brainmaster Technologies, and EEG Education and Research.
Practicing EEG Biofeedback/Neurofeedback since 2000
Angelika Sadar is a licensed psychologist who has been in private practice in the greater Philadelphia area since 1985. She is a treatment coordinator at Sadar Psychological and Sports Center and a nationally recognized speaker providing education and offering training to other professionals in neurofeedback, biofeedback, and hypnosis.  Angelika enjoys being a tennis player and fan, gardening, spending time with her two adult daughters, and chasing her young grandchildren.
Education:
B.A. in Psychology, B.A. in Sociology – Binghamton University, NY
M.A Clinical Psychology – University of Dayton, OH
Specialization in Gerontology – University of Nebraska, Lincoln
BCIA Board Certified in Neurofeedback
Member: Executive Director of Northeast Regional Biofeedback Society, Pennsylvania Psychological Association, and American Society of Clinical Hypnosis, Greater Philadelphia Society of Clinical Hypnosis, Philadelphia Pain Society, Professional Tennis Registry
USTA Sports Psychology Certification
Member of United States Tennis Association Speakers Bureau
Official sports psychologist for the Philadelphia Freedoms, Professional Tennis Team 2001-2010
Practicing EEG Biofeedback/Neurofeedback since 2000
IT'S YOUR TIME TO SHINE.
Our highly trained and friendly staff will help bring out the best in you.
Jay Gunkleman, QEEG Diplomat
Jay Gunkelman is recognized as one of the top leaders in the field of EEG and QEEG, and has processed over 500,000 EEGs since 1972. He is the co-founder and Chief Science Officer of Brain Science International.
Jay has become an expert in predicting medication response from QEEG data, making him an incredible asset to both medication and alternative to medication approaches.
He has served as president of The International Society for Neurofeedback and Research, as well as a board member and treasurer of the Association for Applied Psychophysiology and Biofeedback and is a past-president of the Biofeedback Society of California. He continues to lecture on EEG/QEEG at neuroscience meetings worldwide. He has co-authored the textbook on EEG artifacting (2001).  Jay remains busy with current projects and publications related to his seminal paper on EEG endophenotypes (2005, Clinical Electroencephalography).
Consultant to Sadar Psychological
Meyer Proler, MD
Dr. Meyer Proler, MD is president of MedDataLink and Statlinka, a graduate of Baylor University and College of Medicine, and is certified by the American EEG Society Board of Qualifications, as well as the American Board of Electroencephalography with special competence in quantified EEG. He has been a clinical assistant professor in the Department of Neurology at Baylor University for over 14 years. He has had numerous scientific papers on neurology published.
Dr. Proler is a member of the American Medical Association, American Academy of Clinical Neurophysiology and American Academy of Neurology among others. He is president of MedDataLink and Statlink which processes hundreds of EEGs for doctors and hospitals in the United Stated and other parts of the world each month. He is also a shareholder and principal at Brain Science International.
Consultant to Sadar Psychological
Dave Federman, Ph.D.
Dave is an experienced therapist in private practice since 1980.  He has treated patients in a wide variety of settings including partial hospitalization, day programs, community out-patient programs and prisons.  Outside of work, he spends his time fixing up the old house he owns and, though he doesn't have any interest in football, he is a fanatic of the Philadelphia Eagles.  Dave specializes in treatment of chronic mental health issues, Couples/Marriage Counseling, and Group Therapy
Education & Affiliations:
MS in Psychology, The College of New Jersey
Ph. D in Clinical Psychology, The School of Professional Psychology at Chestnut Hill College
Member of the Pennsylvania Psychological Association
Bob Maier, MA
Robert has been with Sadar Psychological and Sports since 1996 where he provides counseling to individuals, couples and families. Prior to his entry into the counseling field, Robert had careers in both banking and real estate and served in the U.S. Navy. He is a native of the Norristown area, where he raised his family and continues to enjoy bike riding and being a Penn State fan.
Education & Experience:
BA in History with concentration in the Russian Empire, Villanova University
MS in Counseling Psychology – Chestnut Hill College
Director of the Mental Health Unit at SCI Graterford 1997-2013
Consultant to the Mental Health Unit at SCI Graterford
Sondra Moore, LPC
bio coming soon
Education & Affiliations:
details coming soon
Amy Bernstiel
Amy has been with our office since May 2007. In her off time, Amy is very active with horses and specializes in rehabilitating horses for jumping competitions. In 2013 Amy and her horse, Sweet Emotion, received the Jockey Club Performance Award. Additionally, Amy has taken a personal interest in showing riders of all levels the benefits of Interactive Metronome and EEG Biofeedback.
Chaz Scott
Chaz earned a BA in Sociology at Shippensburg University while there on a football scholarship. During that time, Chaz was an active volunteer with the local Boys & Girls Club. During the summer he worked as a Good Stewardship camp counselor and has always enjoyed activities that allow him to interact with and help people.  Chaz has been an athlete his entire life, focusing primarily on football and baseball. He has a passion for sports that combine competition with teamwork. Chaz has long been interested in learning why people do the things they do. He's excited that working as a biofeedback technician not only provides that learning opportunity but also the chance to share that knowledge and to help others.
Kristin Dugas
Kristin brings her caring, patient demeanor to SPS, as well as flexibility and dependability. Kristin understands the importance of making the office run smoothly.  After attending Kennedy Kenrick Catholic High School, Kristin decided to pursue a degree in Engineering.  As a result of her work at SPS, Kristin has the desire to explorebiofeedback and the psychology field once she completes her Engineering degree.
Kristin enjoys being active, doing activities outdoors and – most importantly – venturing out to try new things with her two children.
Chelsea Keeler, MA
Chelsea first began working at Sadar Psychological as an intern while receiving her B.A. in Psychology from Franklin and Marshall College. She returned to the office as a biofeedback technician while working towards her Master's at the University of Pennsylvania. Now having graduated, she works as an oncology social worker at the Children's Hospital of Philadelphia. Chelsea is here on Thursdays as an administrative assistance and biofeedback technician. She has always been interested in the way that people think and has loved the opportunity to continue this learning here at SPS.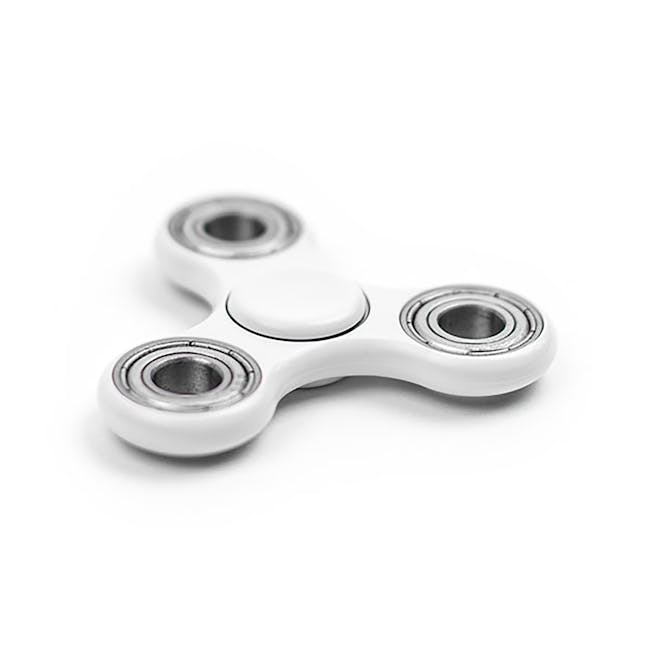 You don't have to have kids to know of the latest must-have toy that has been selling out worldwide-the fidget spinner. This toy has driven parents crazy, as they are asked (or pestered if we are being honest here) to trek all over toy stores and convenience stores to find this popular item. So is that spinner in your child's hand the latest fad or a device that can improve his/her attention?
WHAT IS A FIDGET SPINNER?
This toy is made up of three arms joined in the middle by a spinning disk. The idea is that this toy can keep a person's hands busy which then, in turn, helps their mind remain focused on the topic or task at hand.
THE BENEFITS OF THE FIDGET SPINNER
Those diagnosed with ADHD have seen results in improved concentration and cognitive performance-when "fidgeting."
Children performed better on assigned tasks when able to fidget, than those that could not.
Children, with ADHD, could better think through and solve problems, when fidgeting
They are unobtrusive and don't make noise
There are many alternative treatments for people with ADHD that do not require medication. Sadar Psychological and Sports Center offers a more natural path that is proven to be effective for over 85% of people with ADHD. Neurofeedback (one of the services we provide) can improve the ability to focus, regulated behavior, and decrease impulsivity when trained on a consistent schedule. For more information, visit our site at http://www.sadarpsych.com/adhd/.
CAN FIDGETS BE A DISTRACTION? 
While there are benefits to owning a fidget spinner, especially for children diagnosed with ADHD or other attention deficits, there is a downside. Fidgets have become a distraction in the classroom-as anyone can purchase this new fad. Fidgets have been thrown in classrooms or used as collectibles for trading at inappropriate times. This has caused a disturbance in the classroom, and some school districts have even gone as far as altogether banning these toys.
WHAT IS THE BEST USE OF FIDGETS IN THE CLASSROOM?
Kept in a basket or some container to hand out to children who have attention problems.
Students can use them when taking a test or working on various assignments where focus is needed.
Works well in mainstream classrooms-as they are discreet and don't make any noise. Students who don't want to draw attention to themselves would prefer these types of toys.
SHOULD YOU GIVE YOUR CHILD A FIDGET?
Not every fidget is appropriate for school and not every child will benefit from this popular item. Parents should have their children test out a few different items (maybe while they're doing homework) and see what fidget best fits the child's needs.
CONSIDERATIONS TO KEEP IN MIND  
How big is the fidget?
Does it have any sharp edges or other dangerous attachments?
Is it quiet?
What is the school's policy on fidget spinners?
* National Resource Center on ADHD. (2017, June 15). Are Fidget Toys Just a Popular Fad? ADHD Weekly. Retrieved from http://www.chadd.org/Understanding-ADHD/About-ADHD/ADHD-Weekly/Article.aspx?id=338