How many of us can admit to immediately waking up in the morning and reaching for our phones? The answer is probably the majority of us. So is this considered an addiction?
WHAT IS AN ADDICTION?
The fact or condition of being addicted to a particular substance, thing, or activity.
We, as humans, rely heavily on technology to go about our daily routines. There is no official mental disorder classified as "technology addiction" but this term can encompass addictive behavior related to social media, excessive texting, information overload, online shopping, gambling, video gaming, and overall smartphone usage.
IF ADDICTED TO TECHNOLOGY, WHAT DO YOU EXPERIENCE?
People with what they identify as a "technology addiction" experience symptoms such as:
Depression
Social isolation
Social anxiety
Shyness
Impulsivity
Low self-esteem
THE SYMPTOMS LISTED ABOVE CAN BE TREATED USING BIOFEEDBACK HERE AT OUR VERY OWN FACILITY! Sadar Psychological and Sports Center utilizes equipment that "trains" the brain; and this training will allow for better functioning-as the brain is learning and is able to communicate more efficiently. To learn more about the services we provide and how they can help you, visit our services page: http://www.sadarpsych.com/services/
INTERNET GAMING DISORDER-WHAT IS IT?
This is the term for an addiction to video games. There are both functional and structural changes in the neural reward system, so essentially these changes are the same as one would see in a person with an addiction.
Video gaming is a relatively new field of study, so research on addiction to gaming is still in its infancy.
WHAT ARE THE EFFECTS OF VIDEO GAMING?
Positive aspects: attention, visual, and motor skills are improved.
Negative aspects: risk of addiction, which can cause any of the symptoms listed above.
Because this is such a new field of study, it is not known yet what aspects of games affect brain regions and how.
SIGNS YOU MAY WANT TO CONSULT A PROFESSIONAL:
You use technology as a way of escaping problems or relieving negative feelings (such as helplessness, guilt, depression or anxiety).
You constantly check your smartphone, even if it does not ring.
You get paranoid when your phone (or any other device) is not with you.
You ignore what is happening around you, in real time, in favor of what is happening virtually.
* (2017, Spring). Addicted to Technology? Binghamton University Magazine.
* Palaus, M., Marron, E. M., Viejo-Sobera, R., Redolar-Ripoll, D. (2017). Neural Basis of Video Gaming: A Systematic Review. Frontiers in Human Neuroscience. Retrieved from http://neurosciencenews.com/video-games-brain-6963/>.
* "We live in a society inebriated by technology." Brutally Honest. Image version: 6a00d8345169e201a3fd1c1af4970b. Image found on http://www.brutallyhonest.org/.a/6a00d834516bb169e201a3fd1c1af4970b-250wi.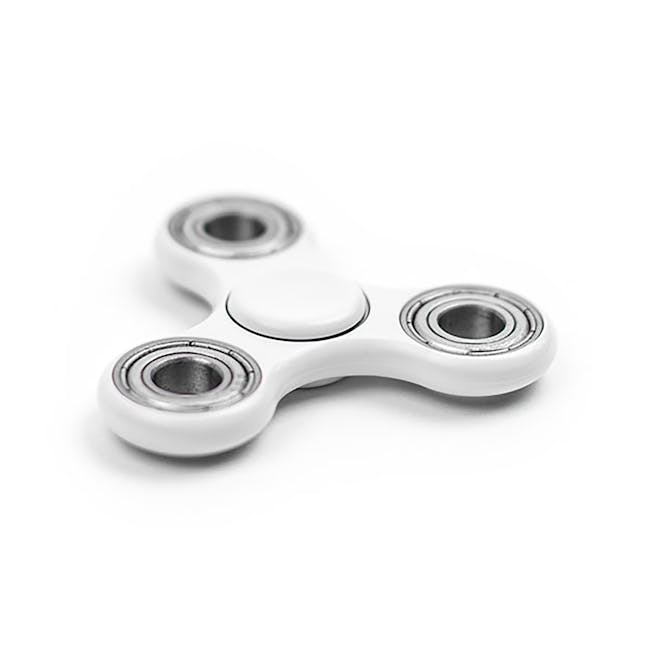 You don't have to have kids to know of the latest must-have toy that has been selling out worldwide-the fidget spinner. This toy has driven parents crazy, as they are asked (or pestered if we are being honest here) to trek all over toy stores and convenience stores to find this popular item. So is that spinner in your child's hand the latest fad or a device that can improve his/her attention?
WHAT IS A FIDGET SPINNER?
This toy is made up of three arms joined in the middle by a spinning disk. The idea is that this toy can keep a person's hands busy which then, in turn, helps their mind remain focused on the topic or task at hand.
THE BENEFITS OF THE FIDGET SPINNER
Those diagnosed with ADHD have seen results in improved concentration and cognitive performance-when "fidgeting."
Children performed better on assigned tasks when able to fidget, than those that could not.
Children, with ADHD, could better think through and solve problems, when fidgeting
They are unobtrusive and don't make noise
There are many alternative treatments for people with ADHD that do not require medication. Sadar Psychological and Sports Center offers a more natural path that is proven to be effective for over 85% of people with ADHD. Neurofeedback (one of the services we provide) can improve the ability to focus, regulated behavior, and decrease impulsivity when trained on a consistent schedule. For more information, visit our site at http://www.sadarpsych.com/adhd/.
CAN FIDGETS BE A DISTRACTION? 
While there are benefits to owning a fidget spinner, especially for children diagnosed with ADHD or other attention deficits, there is a downside. Fidgets have become a distraction in the classroom-as anyone can purchase this new fad. Fidgets have been thrown in classrooms or used as collectibles for trading at inappropriate times. This has caused a disturbance in the classroom, and some school districts have even gone as far as altogether banning these toys.
WHAT IS THE BEST USE OF FIDGETS IN THE CLASSROOM?
Kept in a basket or some container to hand out to children who have attention problems.
Students can use them when taking a test or working on various assignments where focus is needed.
Works well in mainstream classrooms-as they are discreet and don't make any noise. Students who don't want to draw attention to themselves would prefer these types of toys.
SHOULD YOU GIVE YOUR CHILD A FIDGET?
Not every fidget is appropriate for school and not every child will benefit from this popular item. Parents should have their children test out a few different items (maybe while they're doing homework) and see what fidget best fits the child's needs.
CONSIDERATIONS TO KEEP IN MIND  
How big is the fidget?
Does it have any sharp edges or other dangerous attachments?
Is it quiet?
What is the school's policy on fidget spinners?
* National Resource Center on ADHD. (2017, June 15). Are Fidget Toys Just a Popular Fad? ADHD Weekly. Retrieved from http://www.chadd.org/Understanding-ADHD/About-ADHD/ADHD-Weekly/Article.aspx?id=338
Did you know mental illnesses may begin with your gut? It's true! Gut bacteria plays just as large a role, in mind "health," as the brain! With proper intake of food, the gut can resist stress and other mood disorders (such as depression and anxiety).

WHAT IS KNOWN AS THE MOST COMMON MENTAL ILLNESS IN THE UNITED STATES?
a.) Anxiety disorders
b.) Depression
c.) Sleep disorders
d.) Eating disorders
The answer is A! Taking a simple prebiotic and probiotic may prevent the development of a common mental illnesses, such as anxiety disorders.
WHAT CAN CAUSE POOR GUT BACTERIA?
Antibiotics- Talk with your physician to see if there are any alternatives.
Diet- It is important to to stay away from saturated fats and foods high in sugar. Whole grains, fruits and vegetables should be plentiful in one's standard diet.
High levels of stress- Meditation, yoga, and deep breathing exercises can all achieve lower stress.
AT WHAT AGE IS GUT BACTERIA MOST INFLUENTIAL ON THE BRAIN?
Adolescence! The brain is undergoing major changes in connectivity and processes, so keeping the gut healthy is very important. Consuming probiotics during puberty can improve one's mood and cognition (such as learning and memory).
TAKE-AWAY MESSAGE?
Probiotics are the most effective "SMART DRUG." Having a healthy gut will, in turn, allow for a healthier brain. The benefits are endless-so what are you waiting for?!
*Marano, Hara E. (2017, May). A Bug in the System. Psychology Today, 31-32.